25+ Vegan Valentine's Day Desserts
Show your love with these Vegan Valentine's Day Desserts – Red Velvet Cake, Chocolate Mousse, Raspberry Truffles, Cheesecake-Stuffed Strawberries – all entirely vegan and irresistible!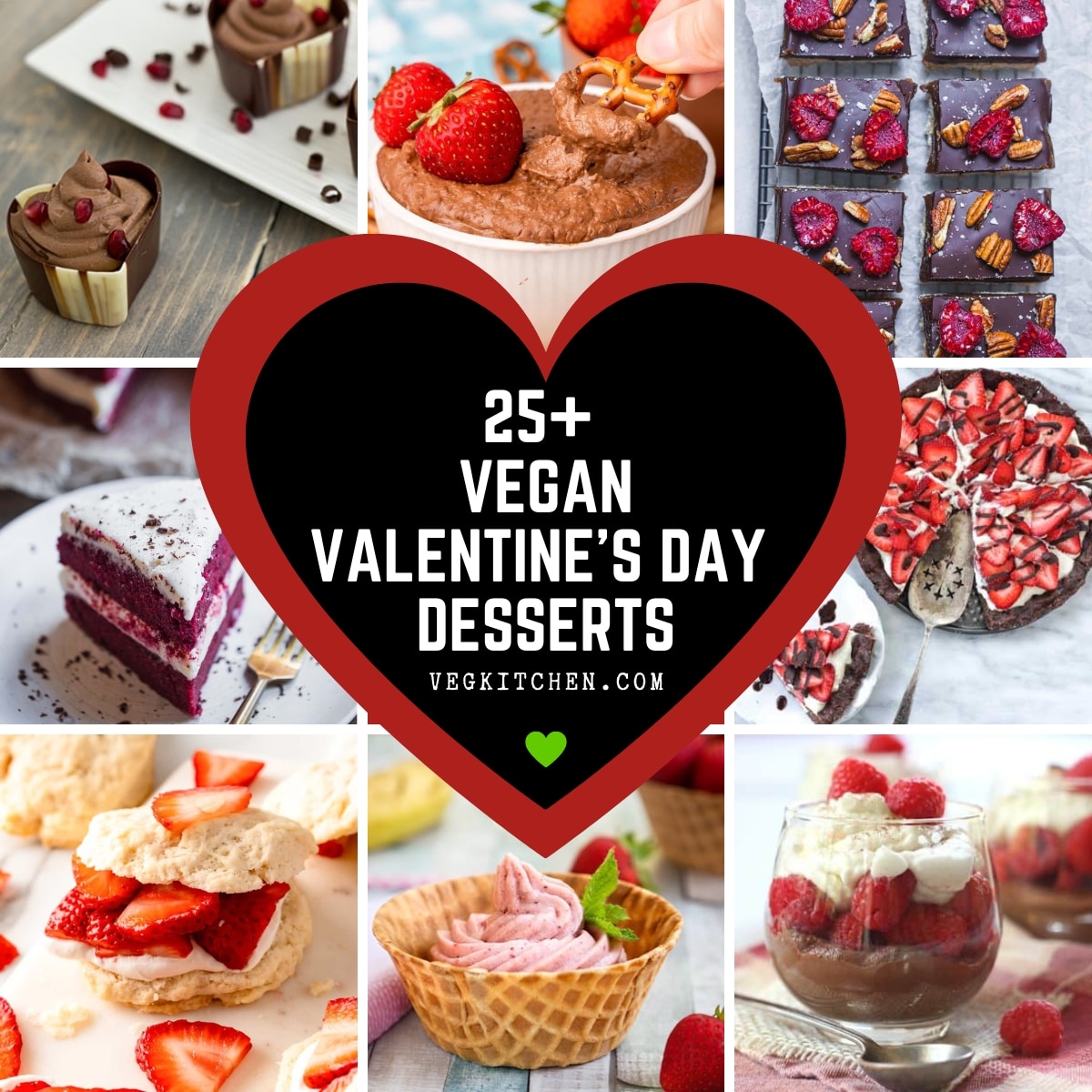 Here's your guide to finding the perfect vegan Valentine's Day dessert recipes.
Photo Credit:
ohmyveggies.com
Dark chocolate hummus makes for a terrific dessert on Valentine's Day. It is entirely vegan, and with it being chickpea-based, it's hearty and healthy, and its exquisite taste makes it versatile. Our dessert hummus can be served with pretzels, cookies, fresh fruit, wafers, and whatever else you want to pair it with. It has a great thick texture, and its' chocolatey goodness makes it irresistible!
Photo Credit:
ohmyveggies.com
This vegan strawberry shortcake features layers of moist, homemade shortcake, juicy fresh strawberries, and buttery smooth coconut cream. Our vegan strawberry shortcake is easy to make and tastes fantastic. It's a simple, fresh, delicious dessert.
Photo Credit:
ohmyveggies.com
Our vegan red velvet cake is moist, fluffy, creamy, and, most important – yummy! The cake alternates layers of beautifully colored cake (big shoutout to the beetroot in this recipe!) and vegan cream cheese frosting. In addition to its satisfying flavor, the cake is also quite pretty! Its red and white color makes it a great dessert to serve for Valentine's Day, and with its delicious flavor, it'll be hard to beat it!
Photo Credit:
ohmyveggies.com
This vegan cherry pie tastes so good that your Valentine (s) won't believe it's vegan. It offers a juicy cherry filling wrapped in a homemade golden crust. How about making it a little more decadent? Add a dollop of ice cream on top! This vegan cherry pie is fail-proof, beginner friendly, and ready to indulge and enjoy in only about one hour.
Photo Credit:
ohmyveggies.com
Our vegan thumbprint cookies are a terrific simple Valentine's Day dessert. They have a tremendous chewy-soft texture with a drop of yummy chocolate in the center. They're effortless to make and will be a hit for whomever you serve. They're easy, tasty, and made with chocolate. It doesn't get better than that!
Photo Credit:
ohmyveggies.com
Smooth, chocolatey, and straightforward, our easy vegan chocolate mousse is a no-brainer Valentine's Day dessert. It's a decadent, beginner-friendly dessert, and despite being vegan, it has a unique and satisfying airy texture. Need a few ideas of what to serve alongside chocolate mousse? No worries! Try some sliced bananas, fresh cherries, orange slices, pear pieces, or coconut chunks for a simple but exquisite Valentine's Day dessert.
Photo Credit:
ohmyveggies.com
A luscious, creamy filling rests atop a crumbling sweet crust with fresh fruit and crunchy nuts used for garnish and extra flavor. Our vegan banana cream pie is a textural masterpiece! From the crumbly crust to the smooth, creamy filling, it's delicious and addictive!
Photo Credit:
ohmyveggies.com
You can't go wrong with our vegan version of millionaire's shortbread this Valentine's Day. It begins with an effortless two-ingredient shortbread and is topped with layers of caramel and chocolate. Even though it sounds ultra sweet and tasty, our vegan millionaire's shortbread is made with nutritious ingredients, giving it a health factor that traditional millionaire's shortbread skips!
Photo Credit:
ohmyveggies.com
Make our chocolate caramel pretzel gelato and swap it for traditional ice cream. It's an impressive dessert made with chocolate. You can't go wrong! It's creamy, sweet, salty, and has a heavenly texture.
Photo Credit:
ohmyveggies.com
Guests won't ever guess this cheesecake is 100% vegan, but nonetheless, it is. Our vegan cheesecake has a creamy, thick, beautiful texture and is topped with juicy, fresh strawberries. It's vegan, luscious, thick, and simple. Our vegan cheesecake makes for a decadent dessert, and you can customize the toppings to your favorite fruits. Try our favorite juicy strawberries, fresh blueberries, tart raspberries, or even a delicious dessert mousse.
Photo Credit:
ohmyveggies.com
Fresh strawberries hug our vegan chocolate chip cheesecake in this fantastic Love Day dessert. The strawberries have a terrific juicy sweet taste, complementing our chocolate chip cheesecake beautifully. The best part is that these stuffed strawberries can be guilt-free as the cheesecake is cashew-based.
Photo Credit:
ohmyveggies.com
Looking for a cute Valentine's Day dessert? We have it right here. Our raw chocolate raspberry cheesecake parfaits with whipped coconut cream look beautiful and taste fantastic. A satisfying combination of chocolate, raspberry, and whipped coconut cream makes an entirely vegan dessert. The cheesecake is cashew based with a few other simple ingredients mixed in to make a 100% vegan, simple, and yummy treat.
Photo Credit:
ohmyveggies.com
Our vegan banana cream pie mini tarts are basically perfection in tiny form. They are 100% vegan, and thanks to the addition of magic-food cashews, our banana cream pie is ultra creamy. These little tarts are easy to whip up and make for a wonderfully cute Valentine's treat.
Photo Credit:
ohmyveggies.com
The comforting taste of dark chocolate meshes beautifully with pomegranate juice to make this vegan Valentine's Day dessert. It's simple to make, looks exquisite, and incredibly versatile. You can serve chocolate mousse with anything! Try fresh sliced apples, orange pieces, juicy strawberries, cantaloupe chunks or wafers, cookies, or biscuits. This tofu-based mousse won't ever be detected over its satisfying texture and taste!
Photo Credit:
ohmyveggies.com
The perfect pie for all pie-lovers and whomever else loves chocolatey-packed desserts! Our vegan chocolate pie is dairy-free, versatile, and has a satisfying texture. It's rich, creamy, chocolatey deliciousness with an endless list of topping options. Explore sprinkling your pie with shaved vegan chocolate, fresh juicy berries, fresh jam or toasted pine nuts for an even more diverse flavor.
Photo Credit:
ohmyveggies.com
Picture a luscious and creamy mousse that rests inside a homemade crust, and you have yourself our vegan chocolate tart. The mousse filling is made with a secret, healthy ingredient that gives the dessert an impressive texture. Our vegan chocolate tart is packed with nutrition, flavor, and a satisfying finish. For a Love Day flair, garnish the chocolate tart with festive strawberries, raspberries, or toasted nuts.
Photo Credit:
ohmyveggies.com
Is there anything better than one-bowl desserts? We don't think so either! These one-bowl vegan peanut butter cookies have a beautiful crispy outside matched with a chewy soft cherry inside. It's a simple cookie that makes for a lovely Valentine's treat for guests of all ages. They're kid-friendly, teacher adored (you know, in case you want to whip up a batch for the next classroom Valentine's Day party), and best of all, we know you'll love them too!
Photo Credit:
ohmyveggies.com
Our raw strawberry chocolate dessert pizza is a fun, exciting, and even wholesome way to indulge in sweets this Valentine's Day! Imagine a delicious crust made from pureed dates, almonds, cacao powder, and dark chocolate chips, giving both nutrition and flavor.
Photo Credit:
ohmyveggies.com
Valentine's Day is a perfect time to indulge in these vegan fresh raspberry truffles. They are a light, easy dessert and ready to enjoy in less than 20 minutes. Our veganized raspberry truffles are made by simply coating fresh juicy raspberries in vegan ganache. It's equally as decadent as it is simple!
Our vegan strawberry nice cream is packed with frosty fresh flavor. It is a sweet, fruit-based dessert that doesn't require an ice cream maker to prepare. It's a no-fuss treat that can be dressed up easily with a topping of sliced strawberries, mint leaves, or even a slight drizzle of chocolate sauce.
With a plethora of satisfying textures, our cranberry-carrot cake with maple cream cheese frosting is a vegan sweet treat that you're bound to love. It's a tasty combo of sweet and fluffy while offering a creamy coating on top. Every bite is indulgent as creamy combines with moist and fluffy to create a sensational dessert.
These little dessert bites are ready to indulge in less than half an hour. It's a simple no-bake dessert with an amazing chocolatey taste blended with a nutty coconut flair. Our dark chocolate almond coconut bites taste terrific and look great too. Their mini size makes them irresistible, while their flavor combines the coziness of chocolate with swirls of coconut to make a delectable dessert!
Our sesame berry squares are a spectacular treat to make for Valentine's Day. They're nutritious and made with healthy ingredients like chia and hemp seeds. These sesame berry squares can be enjoyed guilt-free as they are packed with vitamins and minerals. Our sesame berry squares have a great texture and are beginner-friendly to bake.
Celebrate Valentine's Day with our chocolate ganache cake. It's an impressive dessert ideal for even the pickiest of cake eaters. It has a terrific texture and is blanketed in our vegan chocolate ganache, which is DELISH!
Photo Credit:
www.deliciouseveryday.com
Imagine a fluffy almond flour cake with a subtle, soft flavor topped with a simple but yummy three-ingredient strawberry jam, and you have our drool-worthy Valentine's Day dessert. It's naturally gluten-free and looks really pretty. Our almond flour cake with strawberry jam topping is a decadent dessert.
Photo Credit:
www.deliciouseveryday.com
Looking for a melt-in-your-mouth type of delicious dessert for Valentine's Day? Try our vegan chocolate pudding! It's a light, thick, and heavenly dessert that couldn't be any simpler. It's very versatile and tastes great with nearly anything or on its own.
Reader Interactions