Vegan Chocolate Pie – Nora Cooks
This Vegan Chocolate Pie is out-of-this-world! Showcasing a luscious and silky 4-ingredient chocolate filling and a whipped cream topping, it's surprisingly easy to make and the best treat to serve on any occasion.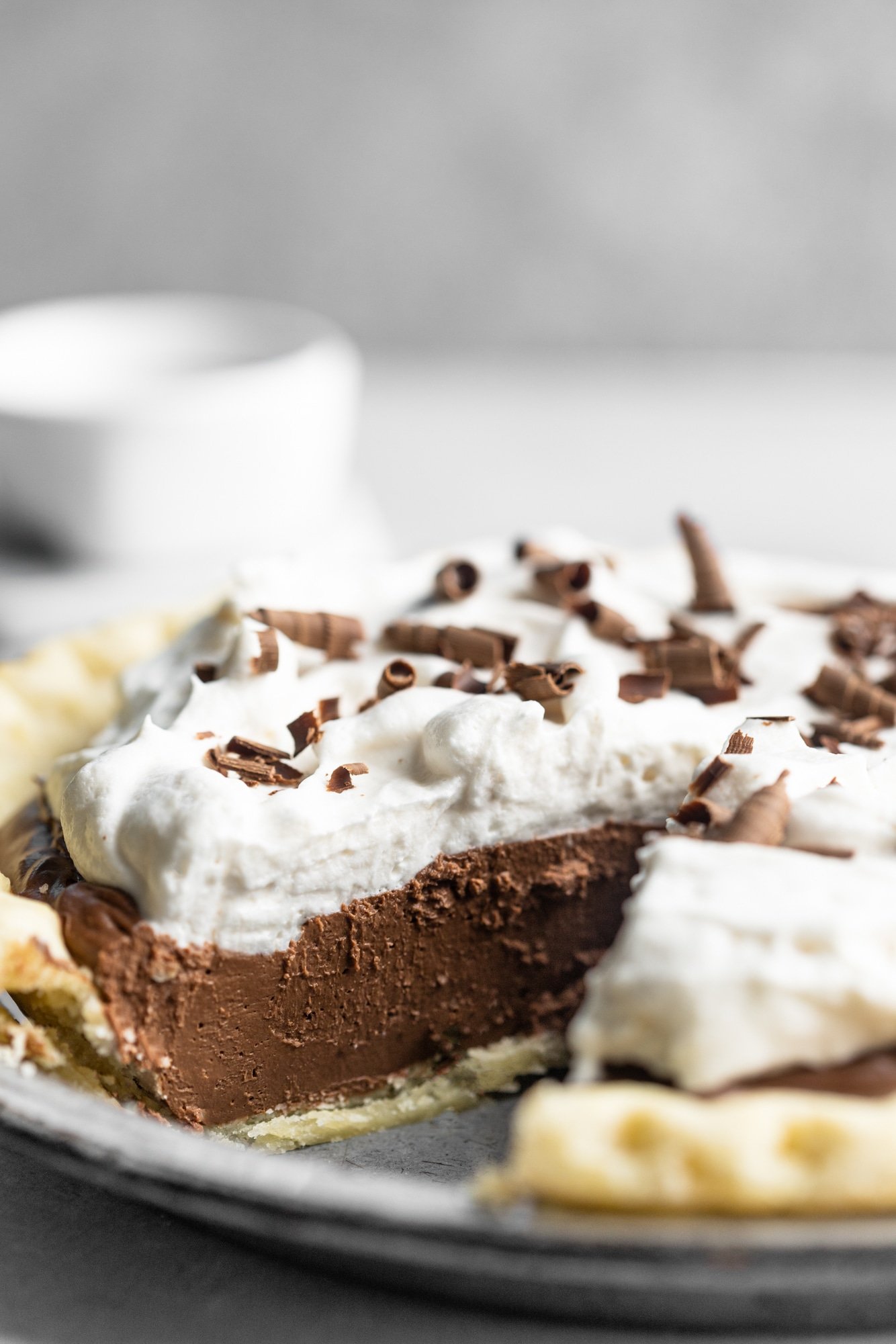 If you like creamy custard pies like Coconut Cream Pie and Banana Cream Pie, then you'll love this Vegan Chocolate Pie! It's an easy and dreamy vegan dessert you can make entirely from scratch or with a few shortcuts. The 4-ingredient chocolate filling is heavenly while the whipped topping is impossible to resist!
The best part is this vegan chocolate cream pie is even easier than the traditional version. A classic chocolate pie is made with an ingredient-heavy filling that's whisked together and heated on the stove. My vegan version quickly blends the filling together before it's poured into a pie shell and left to chill.
And voila! A dairy and egg free pie that magically captures the silky smooth decadence of chocolate pudding and the light and airy density of chocolate mousse.
Why you'll love this recipe
It's just plain perfect! Plain and simple, this is a truly mind-blowing dairy free chocolate cream pie. According to a reader, "this tastes like a real French silk pie."
Beginner-friendly: This pie is ridiculously easy to make from scratch, whether you're new to vegan baking or already a pro. To make it even easier, use the shortcuts I include below and in the recipe card.
Simple and minimal ingredients: The mousse-like chocolate filling is made from 4 simple ingredients: silken tofu, chocolate chips, sugar, and plant milk. That's it!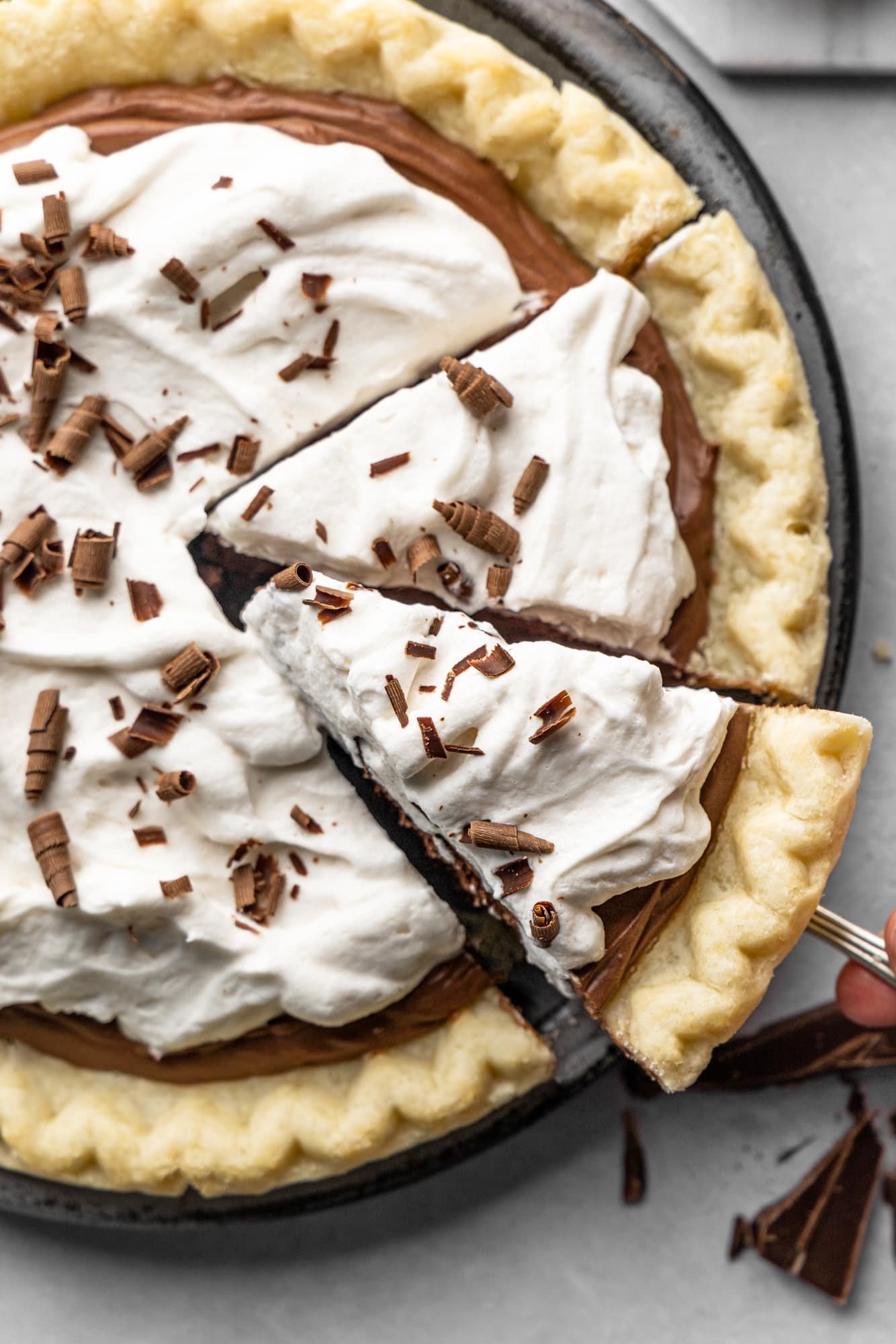 Ingredients needed (with substitutions)
Silken tofu – This provides a thick, neutral-flavored base for the filling. I like soft or firm Mori-nu silken tofu, but other soft or even firm tofu will work in a pinch. Silken tofu that comes in a vacuum packed container (not in water) is best because it has a neutral flavor and is undetectable. I haven't tested this recipe with any tofu alternatives, but you might be able to use coconut cream instead of tofu here.
Dairy free chocolate chips – Double-check the ingredients in your chocolate chips, as many brands contain dairy. A reader mentioned using two 2.8-ounce dark chocolate bars instead of chocolate chips, which worked perfectly.
Almond milk – Or you can use any non dairy milk like cashew or coconut. To make it nut free, use oat milk or soy milk. Chocolate-flavored dairy free milk is also an option!
Sugar – Use granulated sugar or even coconut sugar. You probably could use a little agave or pure maple syrup as well, perhaps about 1/4 cup of either.
Vegan pie crust – My Vegan Pie Crust is light, flaky, and comes together in under 15 minutes. Or, to keep this recipe easy, buy a ready-made pie crust. Whole Foods has a good frozen one. If you can find a vegan cookie-based crust, that works too (my homemade Oreo cookie crust is delicious!). If you are gluten free, use my Gluten Free Vegan Pie Crust.
Coconut whipped cream – You can use a store bought option like SoDelicious CocoWhip, my homemade whipped cream substitute (the BEST), coconut whipped cream or aquafaba based whipped cream. Even if you omit the whipped topping, your chocolate pie will still be delicious!
Chocolate shavings – For the decoration on top. Keep scrolling for even more chocolate pie toppings!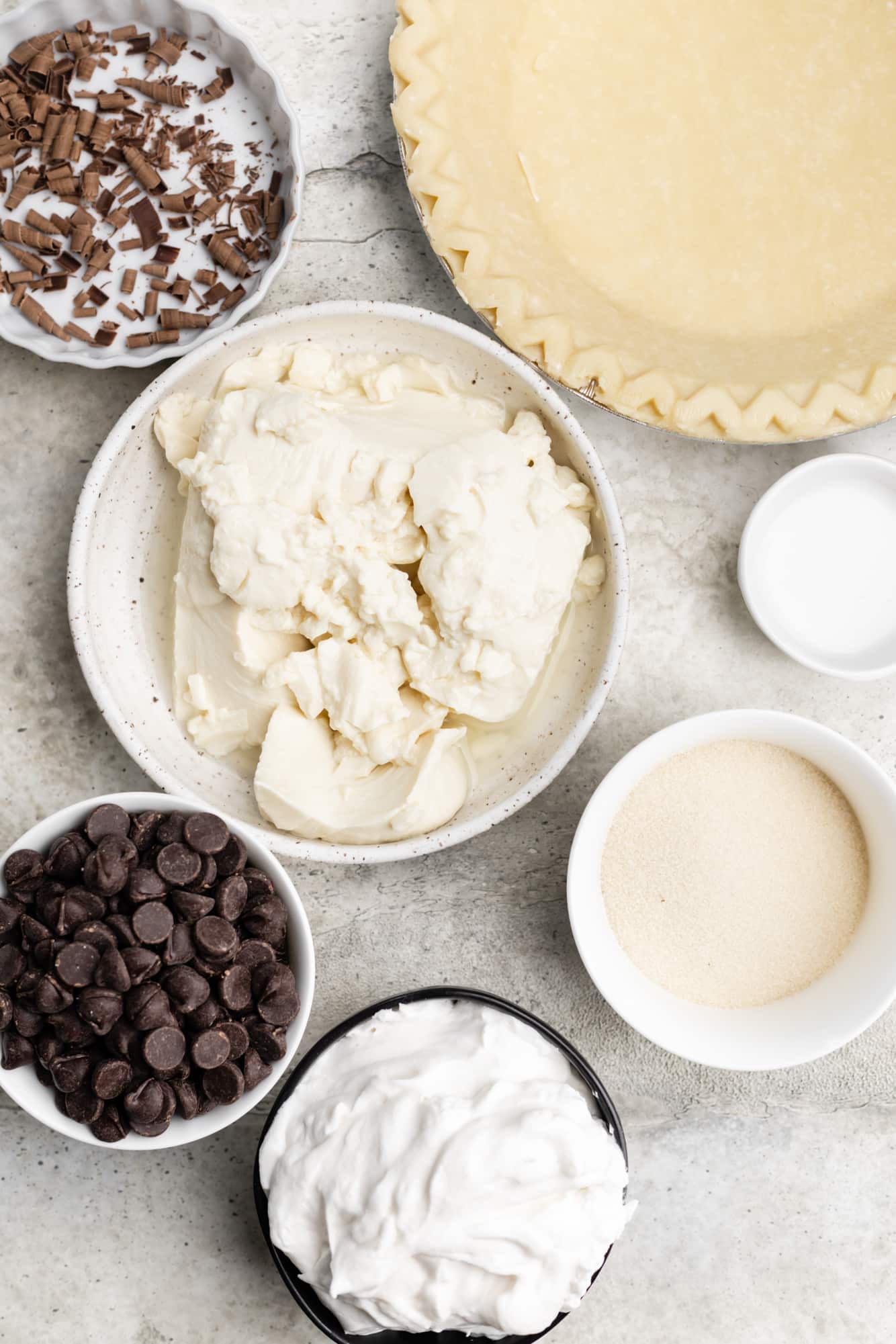 How to make a vegan chocolate cream pie
Find the complete recipe with measurements in the recipe card below.
If you haven't already, make my Easy Vegan Pie Crust. Bake it fully, then leave it to cool while you prepare the chocolate filling.
Melt the vegan chocolate chips in the microwave in 30-second intervals, stirring in between (this took me 1½ minutes). Set it aside to cool for a few minutes.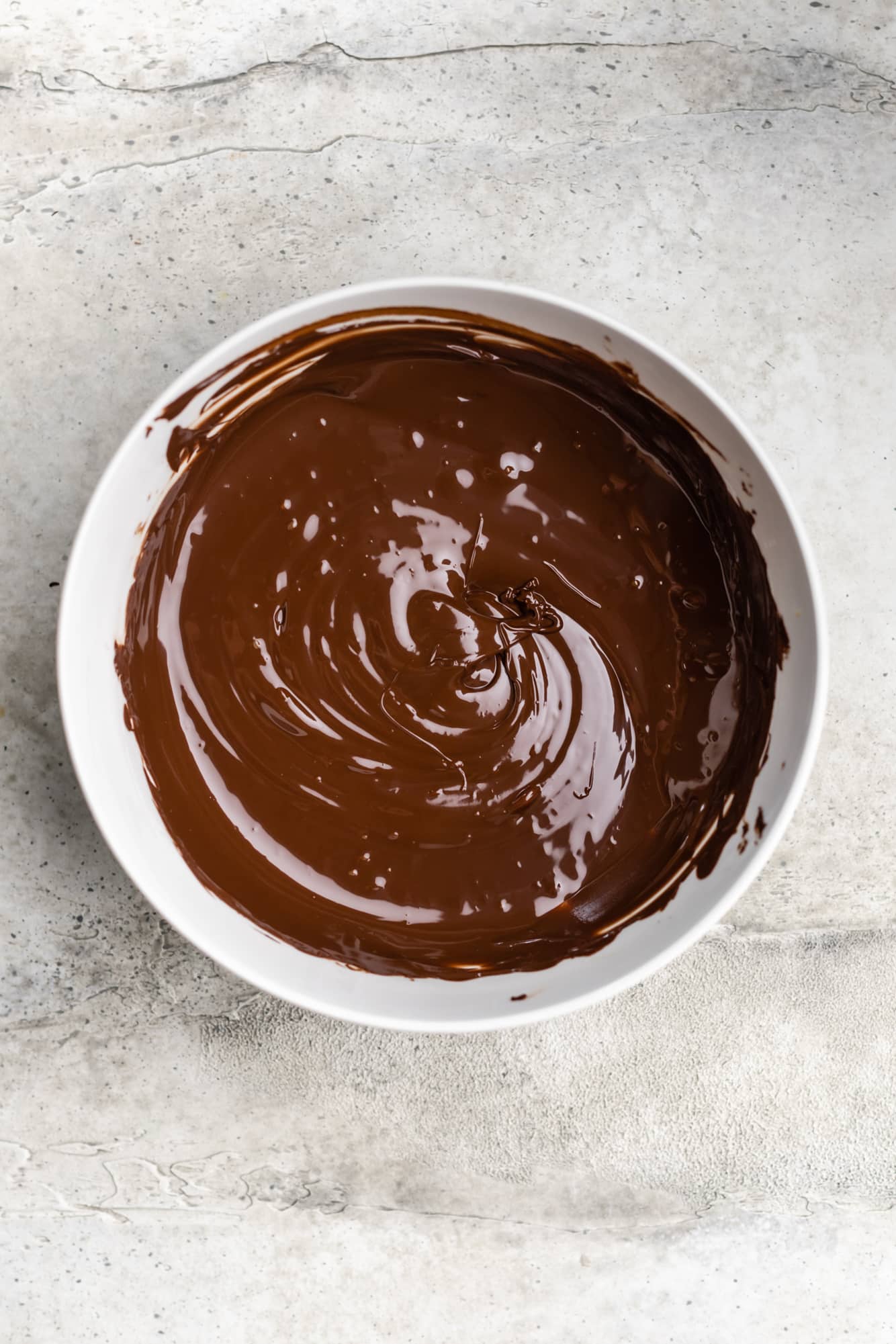 Next, pour the melted chocolate into a blender along with the tofu, almond milk, and sugar. Blend until very smooth.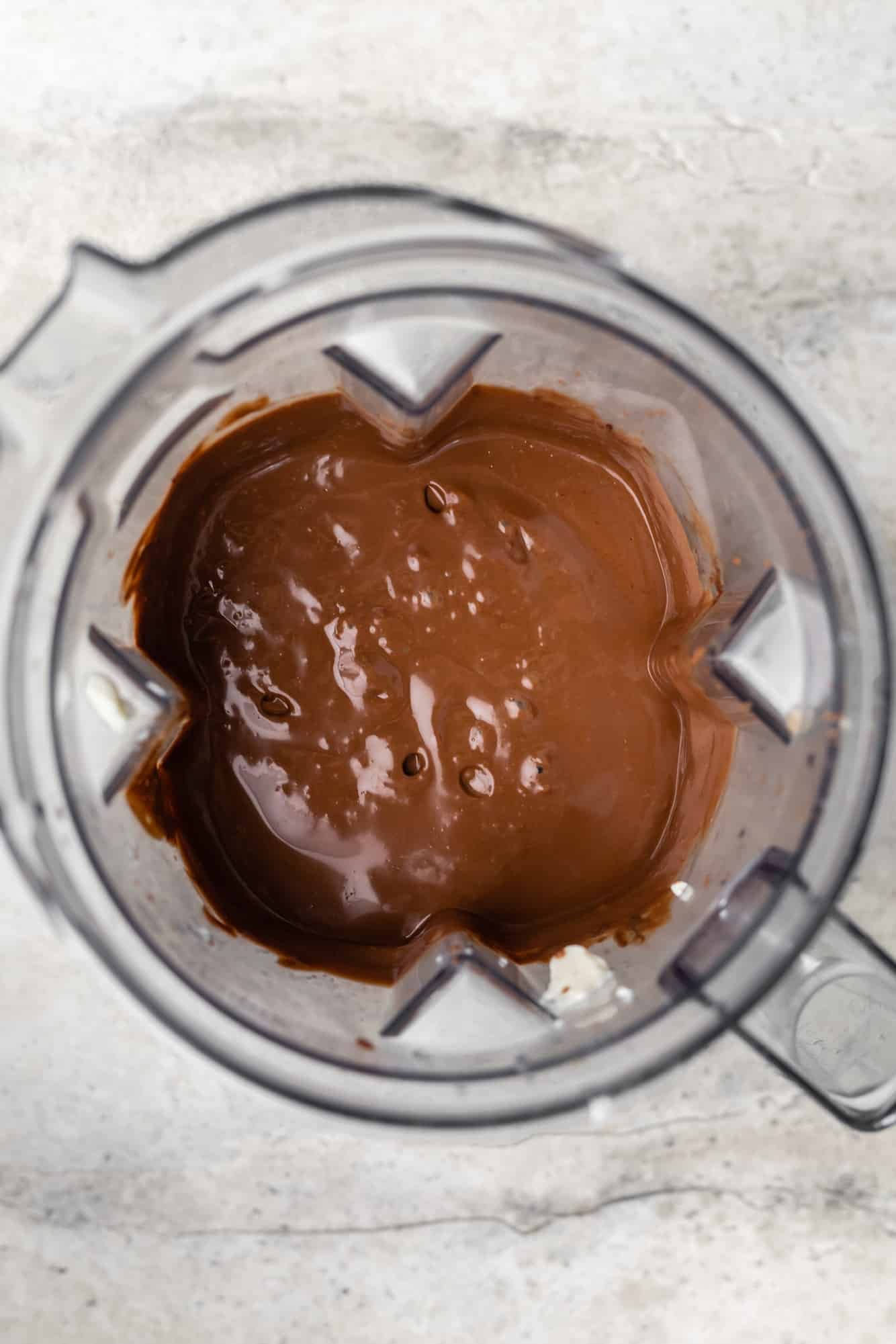 Pour the filling into the cooled pie crust, then place the pie in the fridge. The pie will firm up as it cools.
Once the pie has chilled, top it with whipped cream and chocolate shavings. Serve each slice with an extra dollop of whipped cream and enjoy!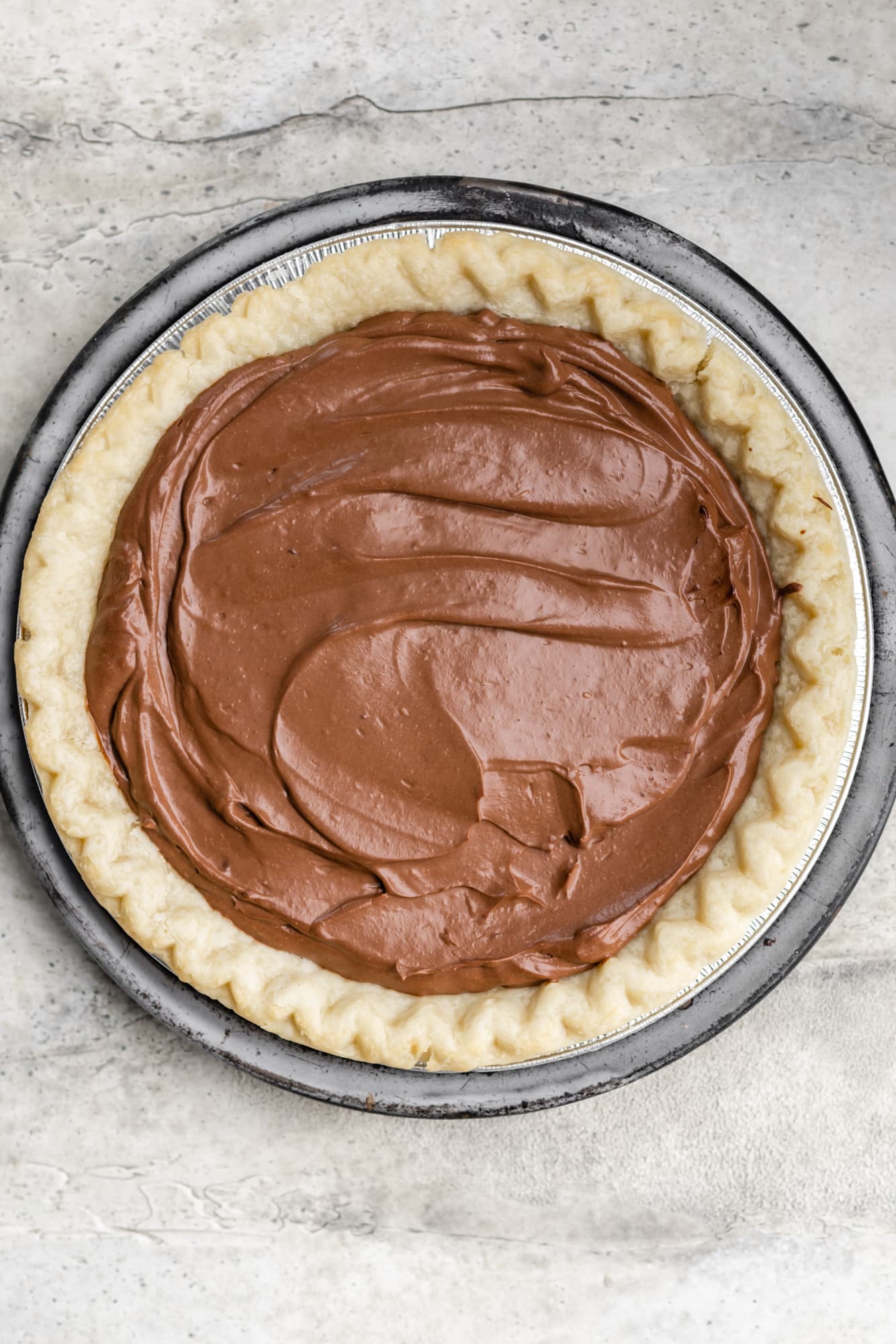 Tips and variations
Patience is key here. The pie crust must be fully cool before you add the filling. Then, the pie needs to chill for a minimum of 2 hours or overnight for the best results.
Does your filling have a gritty texture? The best way to avoid this is by using room temperature tofu and fine granulated sugar.
To intensify the sweet, chocolatey taste, blend 1 tablespoon of espresso powder or instant coffee granules into the pie filling.
Make an extra batch of the chocolate cream filling for snacks! The tofu gives it a boost of plant based protein, making individual servings a delicious and somewhat-healthy sweet treat or simple dessert. Top with fruit, nuts, nut butter, etc.
More topping ideas
I topped this chocolate pie with chocolate shavings but if you want to switch things up, use any of these tasty vegan toppings instead:
Flaked sea salt (just a pinch!)
Mini chocolate chips
Sifted cocoa powder
Freeze-dried strawberries (whole or ground into a powder)
Fresh fruit and berries
Crushed Oreo cookies
Vegan sprinkles
Shredded coconut
Toasted nuts
Nut butter
Vegan Nutella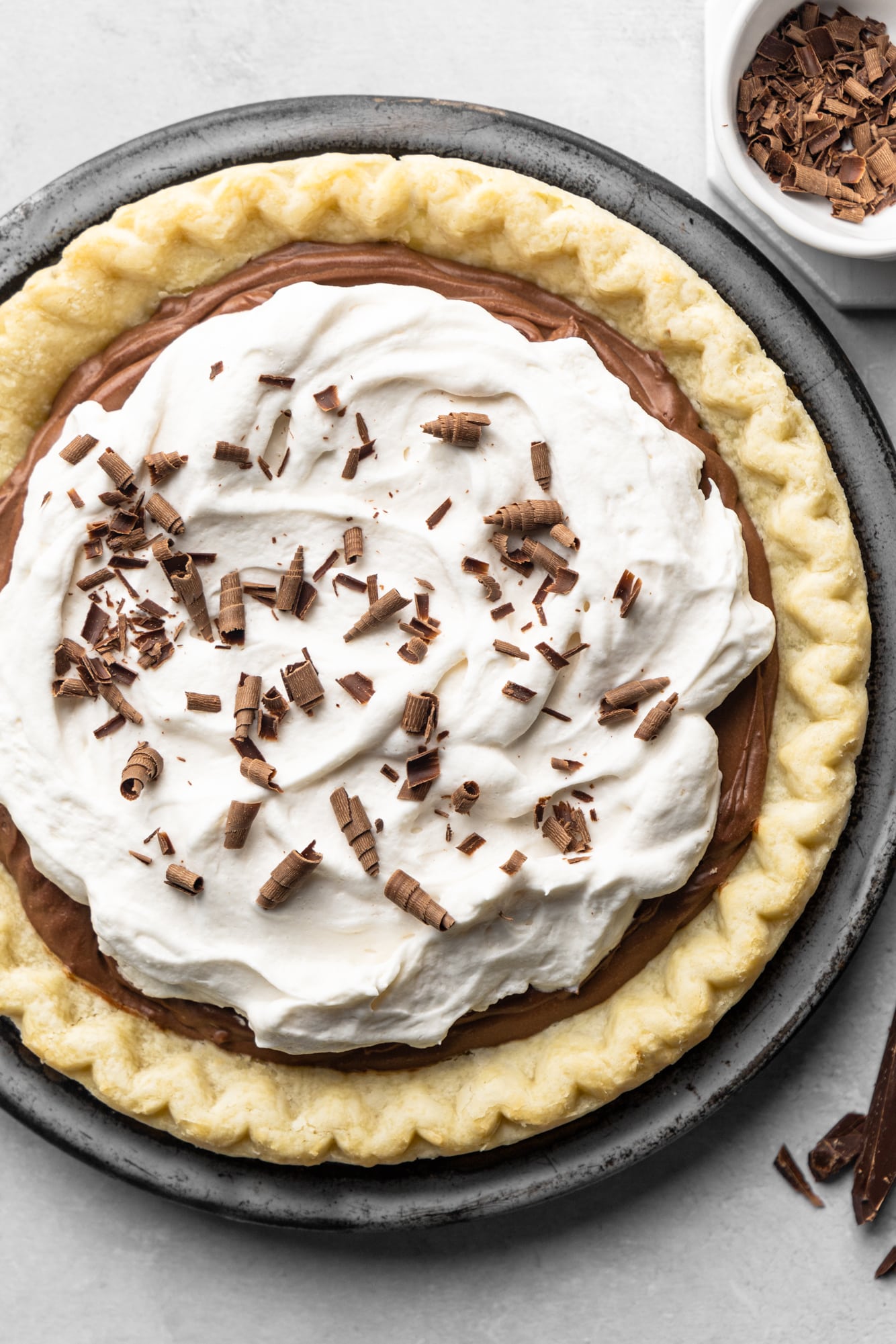 Frequently asked questions
Do you need to press the tofu beforehand?
No, you don't need to press the tofu, as the moisture contributes to the silky texture of the filling. However, do drain some of the water before adding it to your blender.
How long does this chocolate pie last?
This pie is best once it's chilled and the filling is set. Wrap individual slices or the pie plate tightly in plastic, and it will keep in the refrigerator for 2 to 3 days.
Does this pie freeze well?
Yes, this pie freezes very well. You can keep the slices in a freezer-safe container or wrap the pie dish in plastic. Freeze for up to 3 months.
When ready to serve, pull the pie from the freezer and let it thaw on the counter for about 2 hours before slicing.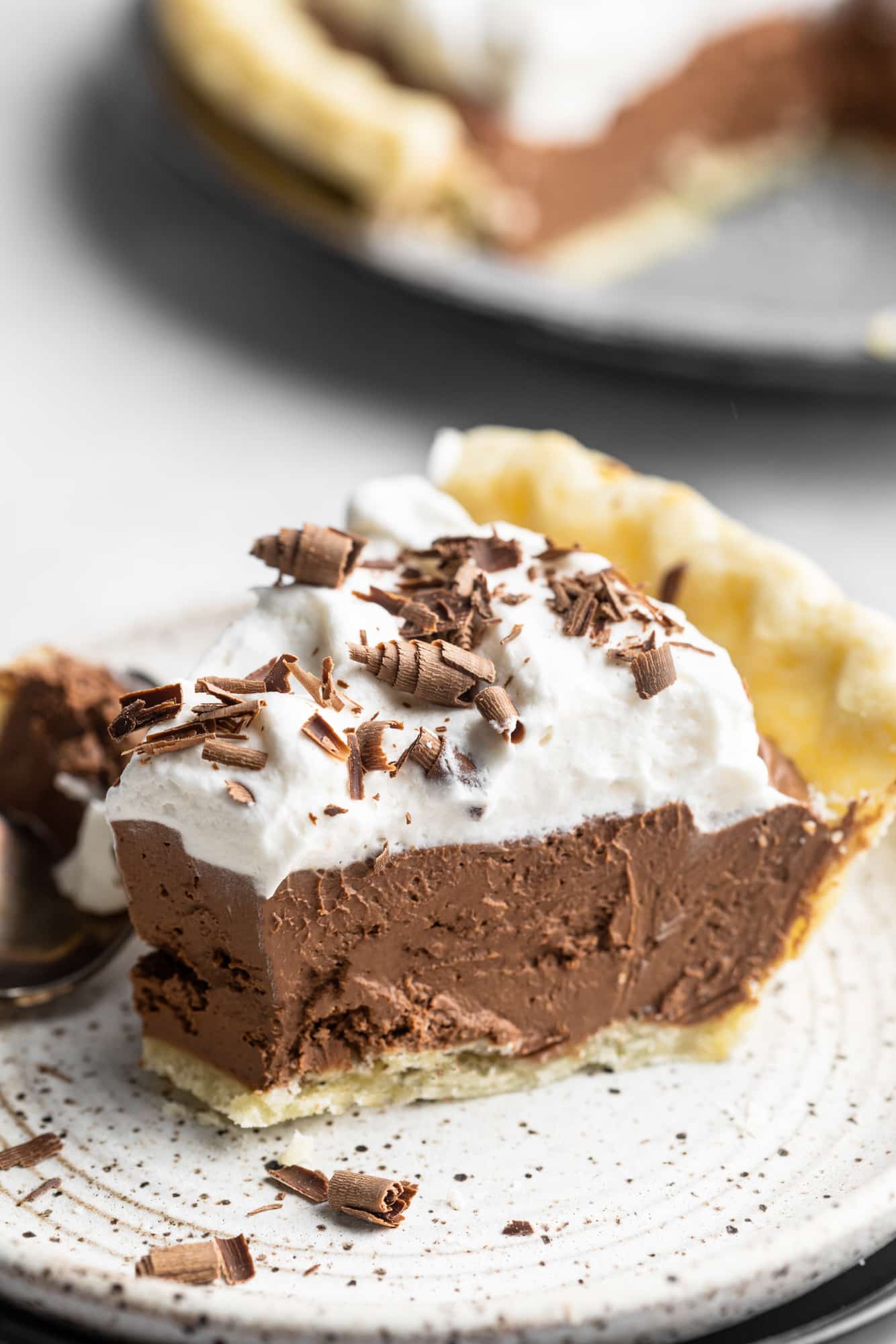 Want more vegan pie recipes?
For the chocolate pie filling:
For the crust and topping:
Prepare the pie crust: If using my recipe for Easy Vegan Pie Crust, prepare as instructed, transfer to a pie pan, line with foil and pie weights or dried beans/rice, and bake for 15-20 minutes at 350 degrees F. Remove and let cool while you make the filling. Or use a store bought crust.

Make the chocolate filling: Melt the chocolate chips in a microwave in 30 second intervals, stirring in between, until melted. It took me 1 1/2 minutes. Let it cool for a few minutes. Then add the melted chocolate chips to a blender along with the silken tofu, almond milk and sugar. Blend until very smooth.

Pour the filling on top of the crust. Place in the refrigerator to chill for at least 2 hours. The pie will firm up as it cools.

Once the pie has chilled, top with vegan whipped cream and chocolate shavings, if desired. You can also serve each slice with a dollop of whip. Serve and enjoy!
I recommend Mori-nu silken soft or firm tofu for best results, but the water packed soft or firm tofu will work as well.
May use any other non-dairy milk in place of almond milk, like oat, soy or coconut.
Make sure to check ingredients on your chocolate chips, as many brands have dairy in them.
To make this recipe easier, you can buy a pie crust, either a cookie crust or vegan pie crust (Whole Foods has a good one). Or make my Gluten Free Vegan Pie Crust.
Serving: 1serving | Calories: 267kcal | Carbohydrates: 36g | Protein: 5g | Fat: 14g | Saturated Fat: 7g | Sodium: 22mg | Potassium: 80mg | Fiber: 2g | Sugar: 29g | Vitamin A: 35IU | Calcium: 62mg | Iron: 3mg